What Record-Low Housing Inventory Means for Phoenix-area Home Buyers
Posted: 2021-03-24 | Author: Richard Simon
---
If you are planning on buying a house soon, you are entering into a competitive market where housing inventory is scarce. You may have already noticed this during your house hunting. When you do a home search, you've probably noticed that many properties for sale show a status of "pending" or "contingent". If you've gotten to the point where you're submitting an offer, your real estate agent may have mentioned that there are several other offers for the same property. Things are expected to continue this way for the rest of the year.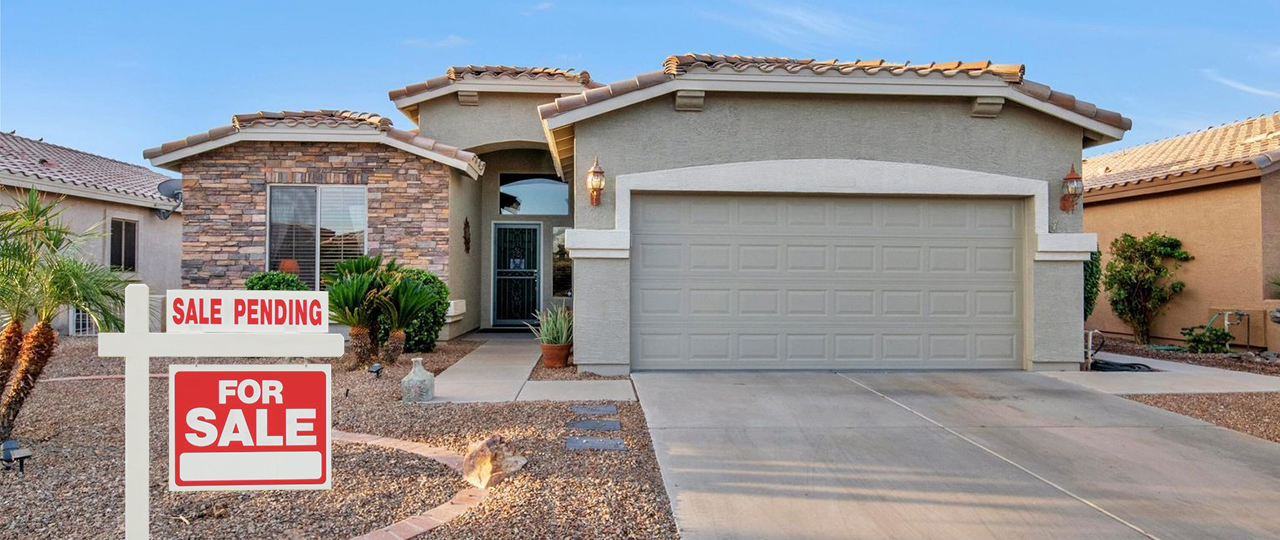 Most experts predict a very strong real estate market for 2021, driven largely by historically low mortgage rates, which has resulted in unprecedented demand and a severe shortage of available homes for sale to meet that demand. Back in January, the National Association of Realtors (NAR) reported that housing inventory had sunk to a historic low of 1.07 million available properties nationwide, or a 1.9 month supply.
According to the S&P CoreLogic Case-Shiller U.S. National Home Price NSA Index, home appreciation increased in 2020 at an average rate of 10.4% nationally, the largest year-over-year jump in seven years. Phoenix led all cities surveyed with year-over-year prices rising by 14.4%. Now that might all sound like ominous news for Phoenix area home buyers, but things are not actually as bad is you might think.
What Does Record Low Housing Inventory Mean for You?
The home buying process might be a little different than what you have experienced in years past, but even though housing inventory is low, it is still a great time to buy for those who are qualified, prepared, and patient. Buying a house in this market requires you to be proactive, and it is also critical to work with experts who know and understand the Phoenix area market.
Here are some of the most important things to keep in mind as you begin your house hunting:
Get preapproved for a mortgage. In a home buying market like this where there are likely to be multiple offers on many of the houses for sale, you must get pre-approved before you start your home search. This shows the seller that you are a serious buyer. Note that being pre-approved is not the same as being pre-qualified. Pre-qualification is a good initial step, but pre-approval is a more in-depth process that involves an extensive credit and financial background check. For this reason, pre-approval carries far more weight with home sellers.


Be patient during your home search. House hunting in a competitive seller's market can be frustrating, and it might take a while to find a home you love. Be patient and do not get discouraged if you don't see something you like right away. If you stay persistent, the right home will eventually cross your path.


Be ready to move when the time is right. When you do find the right house for sale, be ready to act quickly and put down an offer. Some homes sell within hours of going on the market, so you need to be prepared to pull the trigger as soon you know for sure that this is a house you want to bid on.


Know how far you are willing to go. With a shortage of housing inventory and the possibility of multiple offers, your offer might have to come in higher than the asking price. Calculate how high you are willing to go for the home you are going to bid on and lean heavily on your real estate professional and mortgage lender for expert advice on this.


Incentivize the seller to choose you. Contrary to popular belief, making a winning bid on a house is not always totally about price. You need to make a competitive offer for sure, but there are also some intangibles that might help you gain favor with the seller. One thing you can do is establish an emotional connection with the seller by writing them a heartfelt letter explaining why you love their home and why it would be a great fit for you and your family. Another way to strengthen your offer is to give the seller extra assurance that the transaction will go smoothly.
At AZ Lending Experts, we provide buyers that qualify with an on-time closing guarantee that not only guarantees the seller that the buyer is prequalified and preapproved, but also that the loan will close on or before the stated close of escrow date. If this does not happen, we will pay the seller $750 out of our own money. Everyone hates delays in the closing process, and this guarantee can often be the deciding factor that tips the scales in your favor.
Housing Market Outlook for the Year Ahead
As stated earlier, the housing market is expected to remain strong throughout 2021. Home builders and construction companies have significantly ramped up housing starts during the past year, but it will probably take at least another a year or so for available housing inventory to adequately meet the strong demand. The good news for buyers is that even though inventory is low, it is still an ideal time to buy a house without busting your budget because of historically low interest rates.
Whether you are buying or selling or doing both, the key is to understand what this market means for you and assemble the right team of experts to successfully guide you through the process. When you are ready to get started, contact us or request a free consultation with one of our local lending specialists!
ID: EA5D2F1C4608232E07D3AA3D998E5135