Arizona Mortgage Rates are Still at Historic Lows, But How Long Will They Last?
Posted: 2021-01-13 | Author: Scott Roberts
---
We are more than a month into the New Year, and the mortgage rates in Arizona are still at or near historic lows. In July 2020, average Arizona mortgage rates fell below 3% for the first time, and they continue to hover at or below 3% for a 30-year fixed rate mortgage. The rates for 15-year mortgage terms are similar or even lower in some cases. It is impossible to know for sure how long these low mortgage rates will last, but once they go back up, we may never see rates like this again.
How are Mortgage Rates Determined?
The interest rate you will pay for an Arizona home loan or refinance depends on a number of different factors, some that are within your control and some that are outside your control. These factors can be broken down into three general categories:
Your Qualifications
You have a lot of influence on the mortgage rate you will get. More specifically, your mortgage rate depends largely on how well-qualified lenders believe you are. The better your qualifications, the lower a risk you are considered to be.

The main personal factors lenders look at in determining your mortgage or refinance rate are:
Debt-to-Income (DTI) Ratio: Lenders prefer to loan money to people who do not have a large burden of existing debts in proportion to their income. Generally, a lender will look for a borrower with a DTI ratio of 43% or less, meaning that no more than 43% of their income will be used to pay their debts after they take out the mortgage.


Down Payment: The more money you put down to buy your home, the less you are viewed as a risk because you are more financially invested in the loan. Ideally, lenders prefer that a borrower has at least 20% to put down. You can still get a good mortgage rate with less than that, but for most loans, you will be required to take out private mortgage insurance (PMI), which will add to the cost of your loan.


Credit Score: Your credit score is the best indicator lenders have about how you will manage new debt. To qualify for the best mortgage rates in Arizona, you will usually want to shoot for at least a 780-credit score. Mortgage rates can still be pretty competitive for you if you have a credit score of at least 720, however.
The Overall Economy
When rates dropped below 3% for the first time last summer, our nation was still in the early days of the deadly COVID-19 pandemic. As of today, we are still dealing with the effects of the outbreak, but we may be starting to turn the corner as the vaccine gets widely distributed in our population. Why is this important? Because the current mortgage rates in Arizona are still at or near historic lows largely because of this event and the disruption it has caused to virtually every area of our society.

More broadly, it is important to realize that government policy as well as the overall state of the economy can have a major impact on mortgage interest rates. When the COVID-19 pandemic hit, the Federal Reserve began buying unprecedented amounts of mortgage-backed securities (more than $1 trillion worth so far). With so much money pumped into the market, this has been one of the major drivers in reducing yields and keeping interest rates low.

The question is - how long will they keep this up? Although the Federal Reserve mentioned maintaining low rates well into 2021, no one can give a definitive answer to this question. One thing we know for sure is that this level of buying will not go on forever. At some point, the Federal Reserve will ease up, probably when they are confident that the economy is back on its feet and/or they are worried about too much liquidity and the risk of inflation.

It is also important to note that we have a new administration in the White House from a different political party. This means that there is a good possibility of significant policy changes, some of which could affect mortgage rates.
Your Lender
You may be surprised to learn that Arizona mortgage rates and Arizona refinance rates can vary widely depending on which lender you go through. Some lenders specialize in a specific type of borrower, but a main reason for different rates is that many lenders include points and fees. You end up paying higher fees (i.e., points) in exchange for a lower interest rate. This is why it is a good idea to comparison shop when you are looking for the best home loan rates in Arizona, and make sure you know how to pick the best mortgage lender.

A 2016 study of prospective homebuyers performed by the Bureau of Consumer Financial Protection found that 30% of borrowers did not do any comparison-shopping before taking out their mortgage, and 75% reported that they only applied for a home loan through one lender. The Bureau goes on to say that failure to comparison shop for the best mortgage rates costs the average borrower about $300 per year, which can add up to thousands of dollars over the term of the loan. We've created a guide to help you easily compare your loan estimates.

The aforementioned study shows that it pays to shop around and compare home loan rates from multiple sources, and it pays to work with a local mortgage broker like AZ Lending Experts who can do the shopping for you. At AZ Lending Experts, we have access to dozens of the most competitive lenders and we can get our clients the best loan programs available in the state. So, whether you are in Phoenix, Mesa, Gilbert, Queen Creek, Avondale, or Tempe where our office is located, we can get you the best mortgage rates that you are able to qualify for.
Why You Should Take Advantage while Current Mortgage Rates in Arizona are Low
You may wonder why it is such a big deal that interest rates are still hovering below the 3% mark, and why you should take advantage while these rates are still available. After all, one or two percentage points isn't all that much, right?

It may not sound like much, but consider the difference in your monthly payment on a $300,000 home in Phoenix if mortgage rates averaged 2.63% today vs. 4.54%, which was an average rate in 2018. Important disclaimer: rates do fluctuate daily, so the 2.63% number is just an estimate, and the rate could be higher or lower on any given day. The point is to give you a good idea of the difference in the cost of your loan by taking out a mortgage today as opposed to just a few years ago.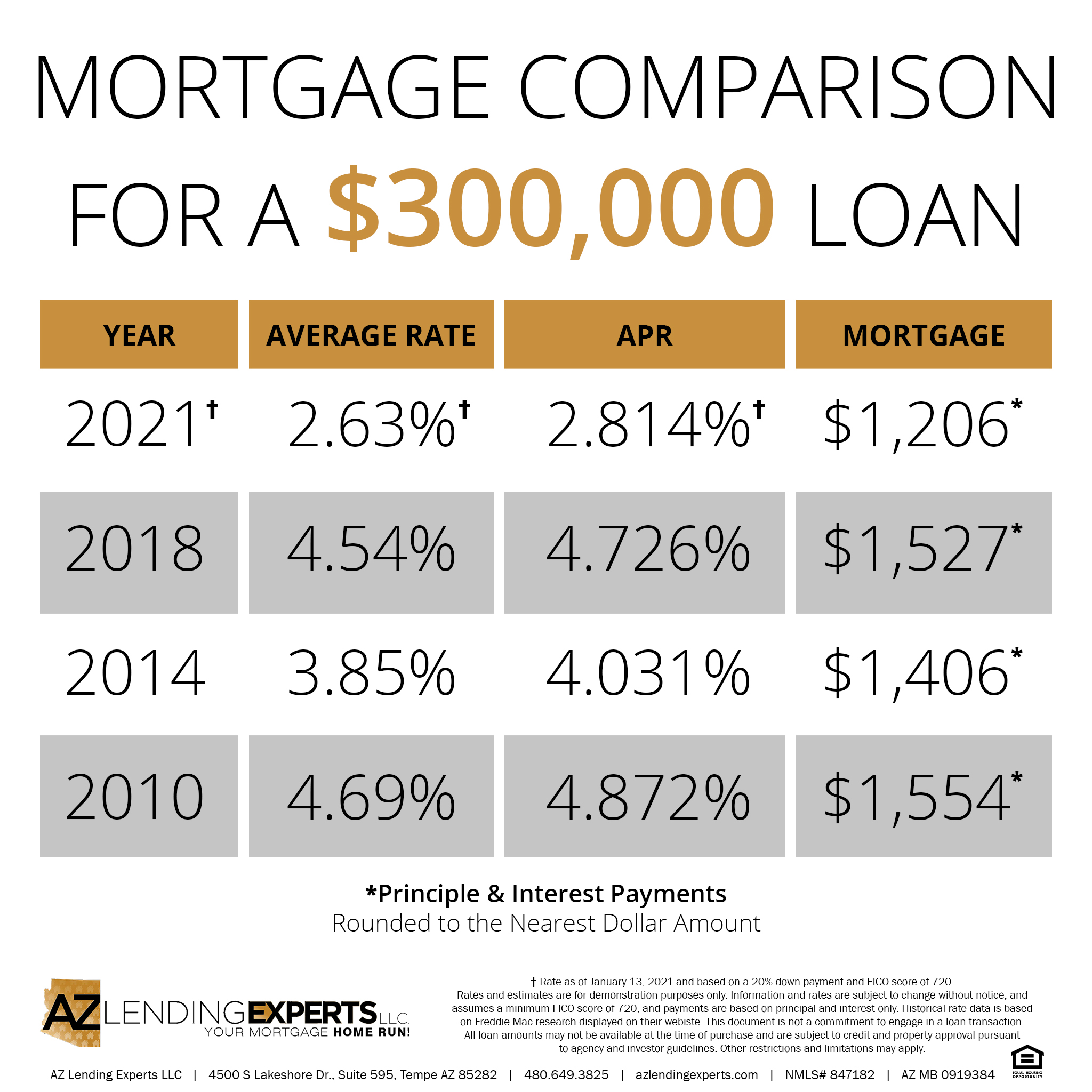 In this example, a $300,000 30-year fixed rate home loan in 2021 at a rate of 2.63% (2.814% APR with closing costs) would result in a mortgage payment (principal and interest) of $1206. This same loan amount in 2018 at a rate of 4.54% (4.726% APR with closing costs) would give you a mortgage payment of $1527. As you can see, just a jump around 2% in mortgage interest rates would cost you $321 more per month to buy a $300,000 home. That's $3852 per year, or a staggering $115,560 over the life of the loan! You can see more comparisons here.

Looking for the Best Mortgage Rates in Arizona? Arizona Lending Experts is Here to Help
If you are considering purchasing a home in Tempe, Mesa, or anywhere in the Phoenix area, there is no better time than right now to lock in the best mortgage interest rates. At AZ Lending Experts, we have helped countless clients get into their ideal home with the lowest available rates and fees, and we can do the same for you. For a free consultation with one of our Mortgage Advisors, just contact us. We look forward to serving you!
ID: 093F65E080A295F8076B1C5722A46AA2