How-To: Pick A Mortgage Lender
Posted: 2020-07-01 | Author: April Nye
---
You're ready to buy a house, maybe you have even found your dream home, but now you need a mortgage. Where do you start?
There are infinite mortgage companies that all offer various types of loans. A mortgage offer might look good on the surface, but you also have endless amounts of fine print to deal with, which means countless opportunities to make a wrong move. What would help is to simply understand how to compare mortgage quotes.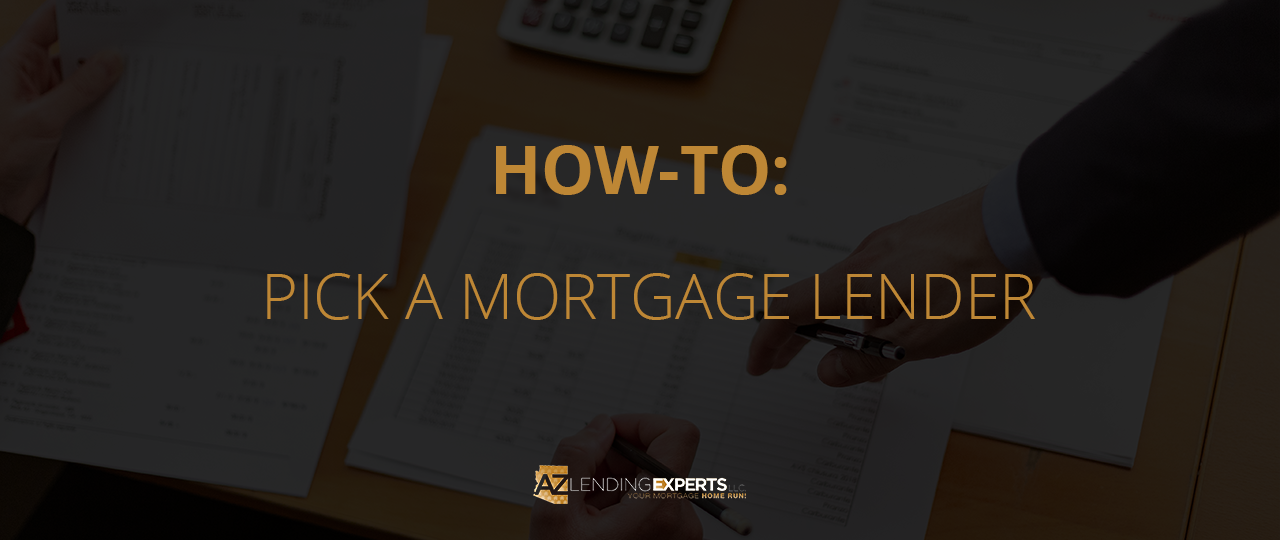 It shouldn't be that complicated, right? Just line up the interest rates side-by-side and go with the lowest one.
But what about all those fees? Did you know that mortgage rates and fees go hand-in-hand? That's right. You can get virtually any rate you want if you are willing to pay enough in fees. And oftentimes, a really low rate will come with really high closing costs.
In the end, the lowest rate may very well not be your best deal. And consequently, not understanding how to properly compare quotes can be a costly mistake that may haunt you for the next 30 years.
This is where we can help. We want to show you the best practices for shopping mortgage companies and teach you how to compare different mortgage quotes, so you'll understand the trade-off between rates and fees and how it will impact you over the life of your mortgage.
After all, purchasing a home is one of the largest investments you will probably ever make, and in most cases, the mortgage will account for the vast majority of the purchase price. It is well worth understanding how to pick the right lender and mortgage, so you know you will be getting the best deal.
So without further ado, let's jump into the 5 best practices when shopping for a mortgage lender and comparing mortgage quotes:
5 – Reviews
When you are looking for the right lending specialist to obtain your mortgage through, the most obvious place to start is by looking at their online reviews. Make sure they have a good average star rating (as close to five stars as possible), but just as importantly, make sure they have a good volume of reviews. A small handful of reviews doesn't really tell you all that much, because these could just be a few employees or family members or paid reviews, and they may not be reflective of the level of quality service you can expect.
Finally, be sure that the reviews are spaced out over an extended period of time, and that they did not all come in during the same month or two. You want to know that the lender has been around a while and that they have been providing outstanding service for several years.
As an aside, these are the same three factors that Google uses with reviews to help determine relevance and authority for search engine rankings.
4 – Third-Party Awards
Another factor that should be examined when shopping for a mortgage lender is the awards and recognitions they have received from their peers and leading industry publications. This validates and reaffirms that they are reputable and trustworthy, and that they provide exceptional service to their clients. In the Phoenix area, for example, AZ Lending Experts has been ranked the number one mortgage broker by Ranking Arizona for six years in a row.
You can view previous issues or vote for us in the 2021 Edition.
We have also consistently been ranked as one of the Top Phoenix Mortgage Brokers by expertise.com and as one of the Top 3 Mortgage Companies in Tempe by Three Best Rated.
3 – Local Presence
You can work with a national lender, or you can work with a lending professional that is local to your area. All other factors being equal, it is highly preferable to work with a local lending expert for a number of reasons:
A local specialist is educated on and has in-depth familiarity with your local market.
A local specialist is familiar with state laws, lending guidelines, and all of the programs that are available for local buyers.
A local specialist has contacts with local appraisers, inspectors, realtors, and other professionals, helping to ensure a smoother and more seamless closing process.
A local specialist lives in the area and actually cares about the local community because they are a part of it.
2 – Experience
Experience goes hand-in-hand with strong reviews and third-party awards. When choosing a lender, you will want to work with someone who is trustworthy and has done this for a while. An experienced lender will have dealt with the more complicated scenarios, and they will be able to provide more creative solutions to help put homebuyers in the best possible financial position.
AZ Lending Experts celebrated 8 years in business last January. Co-Owners Richard Simon and Scott Roberts and Loan Processor Kristine Hutchison have been with the company from the beginning. In addition to that, they have more than 45 years of combined mortgage experience between them.
1 – Compare Quotes
The biggest mistake that people make in looking for a mortgage is comparing rates without considering the overall cost of the loan. When shopping between quotes, you want to make sure you are comparing apples to apples. Because as we touched on earlier, just because the rate may be lower does not necessarily mean that you are getting the best deal.
Did you even know that you could pay for points? Are you familiar with what that means?
The practice of paying for points is also commonly known as "buying down the rate". In other words, you pay higher fees (i.e., points) in exchange for a lower interest rate.
For example, let's say you are applying for a $200,000 mortgage. You might have one mortgage option with a 4.5% interest rate and no points/fees, and another option with a 4.25% interest rate and one point (a fee that equals 1% of the loan, which in this case would be $2000).
At the end of the day, the better deal may not be the lowest mortgage rate. This will of course depend on several factors, some of which are specific to your individual circumstances.
To help you do a true "apples to apples" comparison of mortgage quotes, we have created a free loan estimate comparison guide.
Also, feel free to call us with any questions you may have and we can do a quick walk-through with you over the phone.
If you would prefer, you can also submit an inquiry right here on our website.
ID: 642E92EFB79421734881B53E1E1B18B6