What 2020 Looked Like for the AZ Lending Experts
Posted: 2020-12-31 | Author: Richard Simon
---
Saying 2020 has been a wild year would be an understatement. We are all far too familiar with the unprecedented events that took place and are still going on in some cases. Although the year has been filled with struggles, disappointments, and hardships for many, we want to take some time to focus on some positives from the past year. Here are the new additions, celebrations, and other 2020 highlights we had at AZ Lending Experts.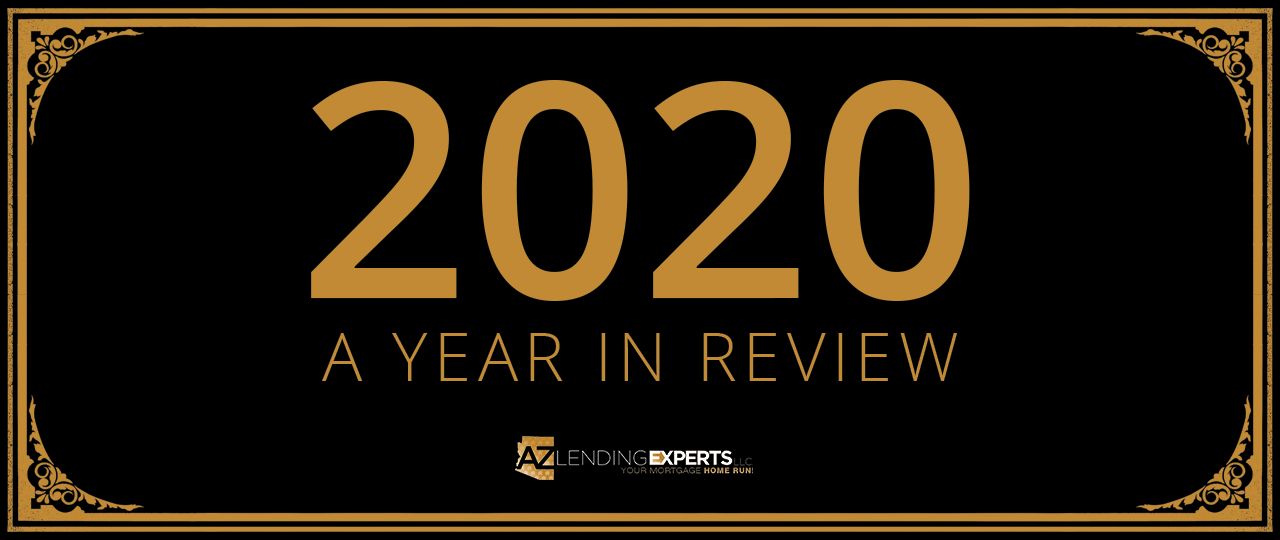 NEW ADDITIONS
First, we added a new team member. Ashley Glover joined us as a Loan Officer Assistant in February. She has now transitioned into to a Junior Processor and we are very happy to have her as part of our team.
We also added some great new partners. We now work with Apex Appraisal Management for our appraisal needs, Cookie Brokers to send out some delicious welcome gifts, we have a new vendor for eSigns, a new application portal, and we've upgraded to a new CRM to ensure optimal communication with our borrowers and Realtor partners.
Last January, we received our new hat order from Branded Bills and ran a giveaway for these around Valentine's Day. for those who shared what they loved about AZLE. Congrats again to Manny Espinoza on winning. We still can't wait to see how it looks on you!
Also, thanks to Raices Roots, we added some green to our office early in 2020.
CELEBRATIONS
AZ Lending Experts celebrated both our 8th birthday and Kristine Hutchison's anniversary since she's been here from the start. We'll be 9 on January 17th if anyone wants to send us some birthday love. In May we celebrated April Nye's 3rd anniversary with us as well as her 500th loan closed with the company. Emily Landherr's 4th anniversary was celebrated in September. Loan Officers Bill Skutta and Rodney McGee hit the 2 year mark in November and Mike Kelley, who handles Marketing and Business Development, just reached his 1 year anniversary on December 30th.
Prior to most of us even hearing about COVID-19 and it having any impact on our country or local communities, we were able to host our 2nd Client Appreciation Event. This took place at Kiwanis Park in Tempe. The event included food, face painting, bounce houses, and a lot of fun!
AZ Lending Experts also received 3 awards in 2020. For the 6th year in a row, we were named the top Mortgage Broker by Ranking Arizona . We really appreciate everyone voting for us and voting for the 2021 edition as well. We can't wait to see the results and are hoping we can celebrate number 7 soon!
We were also listed as one of the Best Phoenix Mortgage Brokers by Expertise and ThreeBestRated named us one of the Top 3 Mortgage companies in Tempe .
MORE 2020 HIGHLIGHTS
We love hearing about the experience that our borrowers and partners have with us, and that feedback is most commonly shared through reviews. We had received an overwhelming amount of positive feedback over the years, and 2020 was no different. We received 55 reviews on Google , 3 reviews on Yelp, and 3 reviews on Facebook. All of these were 5 stars.
One of our goals each year at AZ Lending Experts is to give back to our local communities. We do this in a variety of different ways, and 2020 was no different.
Thank you to everyone who has been a part of our 2020 story. We are hopeful for a bright 2021 and look forward to not only working with a lot of familiar faces, but to meeting many new clients and partners as well. Wishing you and yours health, homeownership, and prosperity in the new year!
ID: 66F041E16A60928B05A7E228A89C3799