2020 Holiday Giving
Posted: 2020-12-28 | Author: Scott Roberts
---
Despite everything that has been happening in 2020, the mortgage and housing industries have stayed strong here in Arizona. At AZ Lending Experts, we have been very fortunate because of that. We understand that many people in our local communities have not had such a promising year, and we wanted to do what we could to bring some positivity to a few families that needed it the most. Each year around the holidays we set out to help support some neighbors in need, and we knew that those contributions would be needed more than ever this year.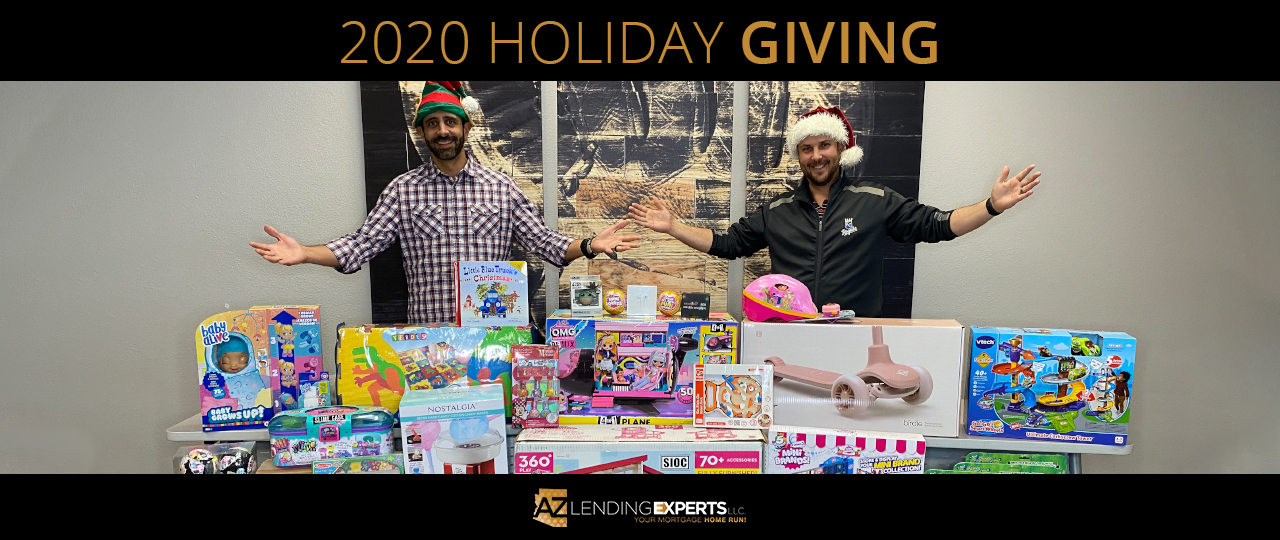 In the past, we have gone through different organizations to sponsor families in need. This year we took a different approach. We decided to ask our past clients, Realtor partners, and social media followers to help us determine which families could use some extra help during the 2020 holiday season. Hopefully, you saw the emails and social media posts from us asking for nominations. We mentioned that we would be helping cover the rent or mortgage for the families selected as well as providing some holiday gifts.
We received over 30 nominations in just over a week. These nominations were submitted through an online form where we asked for contact information, details about why the families were being nominated, and if the person nominating them would like to remain anonymous or not. After some very difficult decisions, we selected a handful of families to help. The kindhearted individuals who nominated each family were also notified by email, so they knew their nominations were selected.
Once we had the families selected, we decided to give them a call on GivingTuesday and let them know what was going on. We thought it would be best for the parents or guardians to pick the gifts up so they could wrap them and label them as coming from them. The families were shocked and very appreciative. Take a look at the video that we posted on GivingTuesday.
Over the next few weeks, we gathered items that were on each family's wishlist. Once all the items arrived, the families stopped by our office to pick up the gifts. We then surprised them with a check to help cover their rent, mortgage, or whatever they may need help with over the holidays.
Between the checks and more than 70 gifts, we contributed around $10,000 to these local families. We like to give a special thanks to Rocky Gonzales at WestGen Lending, one of our wholesale mortgage partners. He saw our LinkedIn post and generously offered to contribute $100 in gift cards to these families too. Thank you as well to everyone who helped provide recommendations of who we could give back to this holiday season!
We are always looking to give back and help our local communities. If you have any suggestions as to how we can give back, know of any programs or initiatives that we may be interested in, or if you would like to partner with us in the future, please let us know!
ID: 72B32A1F754BA1C09B3695E0CB6CDE7F